October is quickly drawing to an end which means Breast Cancer Awareness month is coming to an end as well.  I read something recently that to a breast cancer patient, breast cancer awareness month is every month, can I get an AMEN!  I know I will always be aware of it.
October was a big month for me though. In October, I found out that this ugly cancer had not spread to my lymph nodes.  I also found out that the chemo did what it was supposed to do and the pathology reports from my double mastectomy showed that this ugly cancer was GONE!  So two surgeries, a small one and a big one and two awesome pathology reports!!!!
I have had awesome follow-up appointments with my plastic surgeon, my surgical oncologist and my medical oncologist.
Friends, I am going to continue asking for prayer.  I never want this cancer to come back!!!
I want them to find a cure for cancer.  I never want my child to have to worry about cancer.
I have just recently heard of three other women diagnosed with breast cancer.  Remember, the statistics say 1 in 8 women will be diagnosed with this ugly disease.
As I have talked about before on here, God has walked with me each step of the way and carried me on the hard days.  I could not have walked this journey without Him.  He had all my doctors picked out for me.  Even over twelve years ago, he had picked out my OB/GYN that would walk this journey with me too.  I am going to continue putting my trust in Him and listening to my doctors and nutritionist and believe that this will not come back.  I will have scans done in about three months so you will be seeing lots of prayer request for those scans and for my upcoming surgeries that will happen sometime early next year I am guessing. As mentioned above, I have recently had an appointment with my surgical oncologist and my medical oncologist and will be posting about those appointments soon.
As you know, I normally end each blog post with a scripture.  God has spoken to me through His word so much.  A scripture that I post so often, especially on my FB page is Luke 1:37 – For nothing is impossible with God.  I was telling a friend that is from the older version of the NIV.  I looked one day and the newer version of the NIV words that scripture differently.
Anyway, around April 22nd, I was reading my Bible and there marked on a page I had that scripture double underlined!  God was telling me then that nothing was impossible with Him.  My healing was not impossible for Him!
Stephanie over at He Knows Your Name  makes these awesome scripture cards.  You can get the cards with your name included in the scripture or without your name included in the scripture.  She makes several different one that include scriptures related to different things.
There are going to be 2 giveaways on this post.
I will be giving away 1 Breast Cancer scripture card set!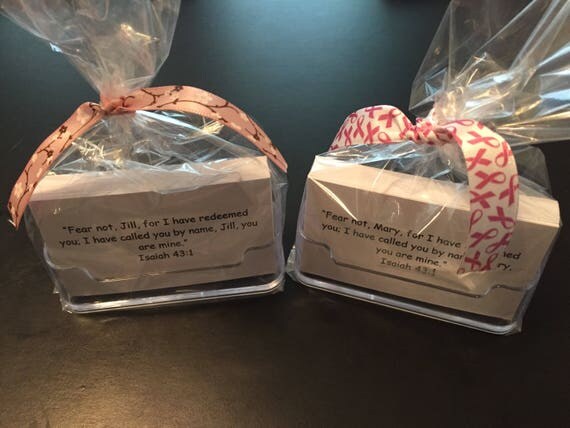 I am also giving away one of her scripture on the go packs.  Ok, that is what I call them when I order them, but the "official" name on her Etsy site for them is Pocket Scripture Cards.
For the scripture on the go packs you can choose from anxiety, love, Proverbs or general scriptures.  You can also choose to include a name in the scripture card or the scripture without a name included.
To enter the drawing, just leave a comment.  I am still working on making adjustments to my blog so if you can't comment below, look back at the top, under the title of the post and you will see comments, click on that, and then you should be able to comment.
Please leave in your comment if you are entering for the Breast Cancer scripture cards or the scripture on the go pack!  You can enter for both, but if you can, please make a separate entry and just mark which cards the entry is for.
I will announce the winners on the blog on Wednesday, November 1st.
You must be over the age of 18 to enter and live in the United States.
Thank you for continuing to walk this journey with us,
Amanda
When the cares of my heart are many, your consolations cheer my soul. Psalm 94:19.  (ESV)